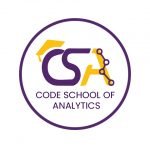 Website Code School of Analytics
Learn Digitally
 job Description:
Translate business needs to technical specifications.
Plan, create, coordinate, and deploy data warehouses.
Design end user interface.
Create best practices for data loading and extraction.
Develop data architecture, data modelling, and Eltl mapping solutions within structured data warehouse environment.
Maintain and support data analytics platforms (e.g. MicroStrategy, power BI)
Define and maintain the ETL, DWH and BI architecture, ensuring its maintainability and extensibility for current and future needs.
Develop reporting applications and data warehouse consistency.
Facilitate requirements gathering using expert listening skills and develop unique simple solutions to meet the immediate and long-term needs of business customers.
Design and build cubes while performing custom scripts.
Develop and implement ETL routines according to the DWH design and architecture.
Support the development and validation required through the lifecycle of the DWH and Business Intelligence systems, maintain user connectivity, and provide adequate security for data warehouse.
Monitor the DWH and BI systems performance and integrity provide corrective and preventative maintenance as required.
Continuously evolve with latest tools and technologies so, that student can gain information about latest trends.
follow the guideline and schedule of the course given by the management team and contributes in changings
of guideline with personal experience.
Assign regular tasks to students.
committed to deliver best in class training according to project.
punctual on the time slots assigned by management after proper coordination regarding availability.
prepare reports of student's performance on the results of the tasks and handover it to management.
Qualifications and skills:
Proven experience of two to three years as BI developer.
Background in data warehouse design (e.g. dimensional modelling) and data mining.
In-depth understanding of database management systems, online analytical processing (OLAP) and ETL (Extract, transform, load) framework.
Familiarity with BI technologies (e.g. Microsoft Power BI, Oracle BI)
Knowledge of SQL queries, SQL Server Reporting Services (SSRS) and SQL Server Integration Services (SSIS)
Analytical mind with a problem-solving aptitude
Priority would be given to those who have worked with the following tools or have some knowledge SSIS | SSRS | SSAS OR Teradata , Power Bi , MicroStrategy , Qlick Sense , C3.Js , D3.JS