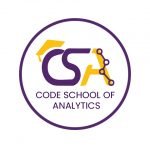 Website Code School of Analytics
Learn Digitally
Job description:
Design, develop, implement, and evaluate artificial intelligence algorithms and build scalable production systems that address current and future business needs.
Advocate for and identify creative uses of artificial intelligence and potential artificial intelligence innovations to realize the real-world business impact.
Collaborate with a team of engineers, data scientists, researchers, and domain experts to address emerging client needs.
Keep abreast of the latest cognitive computing research and trends aligned with business needs
Document and articulate solution architecture and lessons learned for each exploration and accelerated incubation
Monitors project success measures and understand the status of specific projects and assignments.
conduct assessments of the AI and automation market and competitive landscape
Analyze and rationalize application portfolios and define migration roadmaps and strategies
follow the guideline and schedule of the course given by the management team and contributes in changings of guideline with personal experience.
Assign regular tasks to students.
committed to deliver best in class training according to project.
punctual on the time slots assigned by management after proper coordination regarding availability.
prepare reports of student's performance on the results of the tasks and handover it to management.
Qualification and skills.
Experience with artificial intelligence, machine learning, deep learning, modelling, and statistical analysis tools.
Fluency in programming skills such as Python, R, or other equivalent languages.
Recognized expertise in at least 1-2 AI specialties (e.g., NLP, computer vision, neural networks).
Experience with architectural patterns of large, high-scale software applications, including the management of upstream and downstream dependencies and an ability to understand technical designs, challenges, trade-offs, and risks
Outstanding interpersonal, written, and oral communication skills. Able to deliver complex content in a clear, concise, and persuasive manner to multiple audiences, including business leaders and researchers
Passionate about how technology can transform the sport industry
Entrepreneurial; self-directed and excited to build something from scratch
Strong demonstrated computational and quantitative skills
Evidence of the ability to think beyond traditional paradigms.