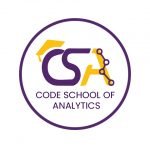 Website Code School of Analytics
Learn Digitally
Job Description:
Identify valuable data sources and automate collection processes in order to provide leverage to the organization in terms of competition.
Undertake pre-processing of structured and unstructured data.
Develop custom data models and algorithms to apply to data sets.
Analyze large amounts of information to discover trends and patterns.
Assess the effectiveness and accuracy of new data sources and data gathering techniques.
Coordinate with different functional teams to implement models and monitor outcomes.
Use predictive modelling to increase and optimize customer experiences, revenue generation, ad targeting and other business outcomes.
Present information using data visualization techniques to the involved functional teams for better performance.
Identify trends and insights, and optimize performance based on the insights.
Teach students about the different aspects of data science starting from basics.
Facilitate a dynamic and collaborative classroom community.
Inspire students to persevere through the challenges of learning a new suite of skills through a term project.
Follow the guideline and schedule of the course given by the management team and also contributes in changings of guideline with personal experience.
Assign tasks to students, on daily basis which should enhance their communication Skills and convincing power.
Should be punctual on the time slots assigned by management after proper coordination regarding availability.
Prepare reports of student's performance on the results of the tasks and handover it to management.
Qualification and research:
At least 3 years of work experience as a data scientist.
BSc/BA in Computer Science, Engineering or relevant field; graduate degree in Data Science or another quantitative field is preferred
Moderate to Expert Experience in data mining.
Understanding of machine-learning and operations research.
Knowledge of R, SQL, Mongo DB and Python; familiarity with Scala, Java or C++ is an asset
Moderate to Excellent Analytical mind.
Strong math skills (e.g. statistics, algebra)
Problem-solving aptitude
Excellent communication and presentation skills
A drive to learn and master new technologies and techniques.